Art
ONLY LIVING ROOMS
1st October 2015 - 23rd October 2015
By demonstrating and exhausting technical boundaries, five artistic positions are formed by students of the HfG Karlsruhe, who create a complex architecture of the time spirit within their experimental exploration. The artworks of Veronika Dräxler, Laytbeuis, Max Negrelli, Natalia Schmidt and Pei Zhou inhabit the material rooms of the villa and emphasize a non-material atmosphere, to be critically received in the social context of the living room.
Ultimately, a 3D-filming reflects the exhibition as the final "moment of translation".

Venue:
Gellertstraße 14
76185 Karlsruhe
Open weekly
Wednesday - Saturday // 16:00 - 21:00
as well as on appointment
Vernissage: 30th September 2015 // 19:00
Participants:
Jonas Beile / Felix Buchholz / Veronika Dräxler / Sascha Jungbauer / Lydia Kähny / Victoria Langmann / Muriel Meyer / Max Negrelli / Natalia Schmidt / Jenny Starick / Lena Thomaka / Pei Zhou
MUTation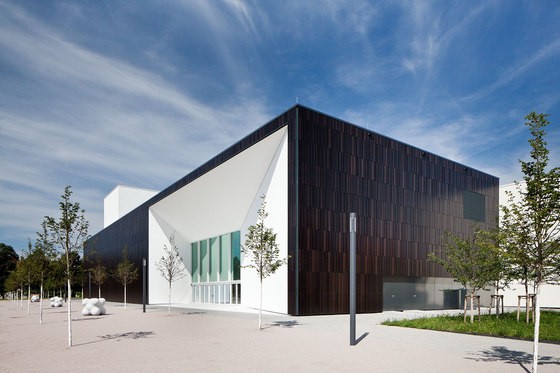 MUTation is an interactive audiovisual installation located in the transitional space named "Fuge" between the stories and staircases of the HFM Karlsruhe's MUT building.
The minimalistic architecture is modulated by expansive video projections and sound compositions. The spectator walks through a specially distributed installation, where he's able to influence the visual appearance and activity via mobile or to watch choreographed audio-visual movements, which uses the multilevel "Fuge" as additional architectonic quality to detach the impression of plane projections into a focus of their spacial arrangement and to find and explore new principles of interaction. While the installation can be watched and heard via the two upper stories, the content can be influenced by mobiles and distributed light objects. The spectator is released from his passive role by egomotion and participation.
MUTation was developed from a workshop with students of the IMWI under the direction of Alexander Stublic and in cooperation with the HfG Karlsruhe within the framework of the 3D alliance.
The installation MUTation shows: "self" by Daniel Höpfner and Michele Samarotto, as well as "Floating Lights" by Martin Widyanata.
The uncanny valley
The historical rooms of the Saarländische Galerie at the Palais am Festungsgraben are chosen as a place of departure of transgressing borders between the real and the simulation. Alexander Stublić creates a computer simulation with different elements of the rooms, concentrating on transitions and changes, which intrude back into the gallery through 3D-video and light.
The original installation from 2014 moved parts of the so called Schinkel-Saal through the gallery space. It was once transported from a destructed Schinkel-palaos and reassembled at the Palais am Festungsgraben where the gallery is located.
In this redux- Version of "The uncanny valley" all references of the original context are missing and the installation itself is transported into a black box that cuts off the aspect of sote specific - creating similarities to the moved Schinkel-Saal.
Four channel video, and audio installation, 2015
By Alexander Stublic and Thomas A. Troge